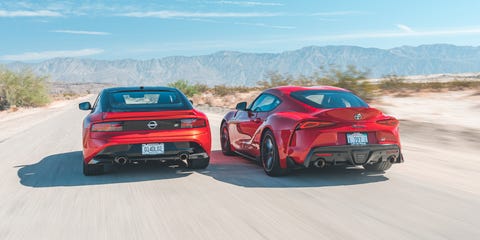 Marc UrbanoCar and Driver
We were really hoping for a more contentious battle, but the gap between the new Nissan Z and Toyota Supra made our job easy.
1 of 68
We're not thrilled with the styling of either of these coupes, but at least the Z taps into some nostalgia. The Supra remains challenging to the eye from any angle.
2 of 68
Don't get caught up in the specs. The Z may have a horsepower advantage, but the Supra surpasses it in nearly every way.
3 of 68
Nissan remodeled the dash of the Z with great results. Sadly, there are too many remnants of the last-generation 370Z elsewhere in the cabin.
4 of 68
The emblem on the steering wheel may say Toyota, but the rest of the cockpit is all BMW, and that's a good thing.
5 of 68
Nissan squeezed the 400-hp twin-turbo V-6 under the Z's hood. That's the same engine in the Infiniti Q50 coupe and Q60 Red Sport 400 sedan.
6 of 68
Under that protruding forehead of the Supra's hood is a 382-hp turbocharged inline-six.
7 of 68
The Supra traces lines through canyons with the precision of a mechanical pencil. The Z is more like a crayon, but crayons are fun, too, right?
8 of 68
The Z's manual transmission is one of the best parts of the car. The Supra will add a stick shift for 2023, though.
9 of 68
To Toyota's credit, it tuned the Supra to be much more engaging and playful than the BMW Z4 on which it is based.
10 of 68
Stickier tires would likely get the Z a lot closer to challenging the Supra. Perhaps we'll get our wish if Nissan makes a Nismo variant.
11 of 68
2023 Nissan Z Performance and 2022 Toyota GR Supra 3.0 Premium
12 of 68
2022 Toyota GR Supra 3.0 Premium and 2023 Nissan Z Performance
13 of 68
2023 Nissan Z-Performance
14 of 68
2023 Nissan Z-Performance
15 of 68
2023 Nissan Z-Performance
16 of 68
2023 Nissan Z-Performance
17 of 68
2023 Nissan Z-Performance
18 of 68
2023 Nissan Z-Performance
19 of 68
2023 Nissan Z-Performance
20 of 68
2023 Nissan Z-Performance
21 of 68
2023 Nissan Z-Performance
22 of 68
2023 Nissan Z-Performance
23 of 68
2023 Nissan Z-Performance
24 of 68
2023 Nissan Z-Performance
25 of 68
2023 Nissan Z-Performance
26 of 68
2023 Nissan Z-Performance
27 of 68
2023 Nissan Z-Performance
28 of 68
2023 Nissan Z-Performance
29 of 68
2023 Nissan Z-Performance
30 of 68
2023 Nissan Z-Performance
Advertisement – Continue Reading Below
This content is created and maintained by a third party, and imported onto this page to help users provide their email addresses. You may be able to find more information about this and similar content at piano.io
Source link
#View #Nissan #Performance #Toyota #Supra #Premium #Photos