More than 402 km / h. This is the crazy speed reached by the Hennessey Venom F5, the ultimate hypercar created by this American trainer. In a video posted on his YouTube channel at the start of 2022, Hennessey shows what this monster on wheels is capable of thanks to its F5 mode, which unlocks all its available power. And there is power! The car, limited to 24 units, simply embeds the most powerful V8 engine in the world, which develops no less than 1,817 hp for 1,617 Nm of torque.
According to Hennessey, all this power could allow the Venom F5 to reach the insane speed of 512 km / h. This would make the Venom F5 the fastest car in the world. The short video posted by the Texas brand shows founder John Hennessey in an Audi, as he and his team follow the Venom F5 back and forth across a track. As a reminder, the beast is able to shoot down the 0 to 100 km / h in just 2.6 seconds, the 0 to 200 km / h in 4.7 seconds, the 0 to 300 km / h in 8.4 seconds and the 0 to 400 km / h in 15.5 seconds.
The 500 km / h reached soon?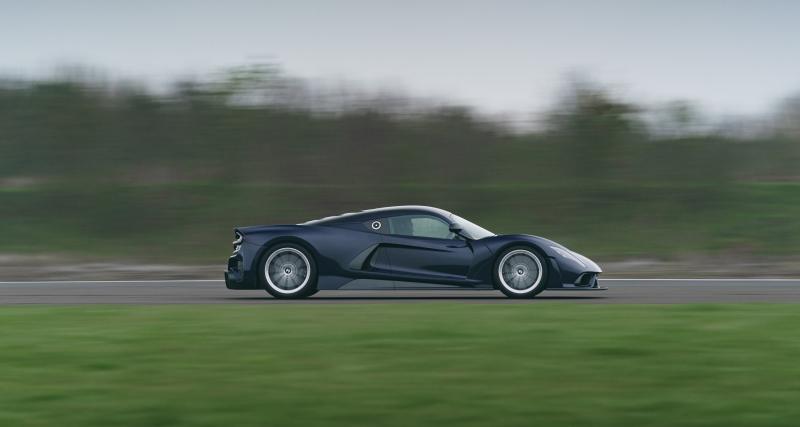 Start the slideshow
Hennessey Venom F5 | official photos
+122
Hennessey Venom F5Credit Photo – Hennessey
If the pictures do not show the counter of the Venom F5 reach a speed of 402 km / h, the noise emitted by its exhaust leaves no doubt: it is not present on this track to run at walking pace. The camera attached to its rear bumper shows the impressive sensation of speed that the pilot must experience. In fact, Hennessey would have driven the Venom F5 there in order to perform high-speed stability tests, according to information gathered. by our colleagues from Carscoops. The specialized site specifies that Hennessey would plan to reach 500 km / h "in the coming months", on a NASA test track in Florida. It was necessary that to push back the laws of physics.
In short
The American trainer Hennessey has created his own hypercar, the Venom F5, a descendant of the Venom GT. On paper, the car would be able to reach speeds of 512 km / h. In a new video showing high-speed stability tests, it already manages to exceed 400 km / h, roaring its 1,817 hp V8 engine.
Source link
#Hennessey #Venom #exceeds #1st #stage #world #record