For your moms, it's a bit of a last minute list! For your dads, luckily you have a little more time! Here is our annual selection to spoil them for these next deadlines!
watches and jewelry
The BRM Luxury range
Come on, quickly, for mom, there is little time left! For once, here are jewels perfect for lovers of beautiful automobile mechanics and which will go as much to a man as to a woman with different finishes.
We talk about it in detail here.
The whole range can be discovered on the BRM website by clicking here.
Code 41 watches
Want to make a bigger gift? The watch is the perfect ally for lovers of beautiful mechanics, as there are so many bridges between the world of the automobile and that of watchmaking. Those of Code 41 are created by taking the opinion of the whole community! A truly original object.
We talk about it here.
The range is on their site.
Clothes
Former News t-shirts
In addition to the serigraphs launched with Arbre à Came, we selected 2 that were derived in TShirt. These are limited series with top quality and iconic vehicles on them. Two cars that we tried on the site!
They can be found here, 20€+ shipping costs.
"Racing" polo shirts
Classier than a T-Shirt, the polo shirt is timeless. Our partners at Cockpit Boutique offer the Warson collection with very beautiful, very 70s polo shirts to put you in the shoes of some motorsport legends.
Vests and jackets too!
Since the weather isn't always nice and convertibles are good too, so that your relative doesn't catch a cold, dress him up. From Gulf jackets to Delahaye vests, from fabric to leather, there is something for everyone.
From €59 to €449 at Cockpit Boutique.
Lots of books!
A subscription to Vulcan
It's not really a book, nor a magazine. We talked about it here at the time of number 1and Vulcan continues in variety. BMW M5 E39, Alpine A110, Porsche Affordables and Ferrari 458 for the latest issue, the themes vary, not the treatment. Always well written, with sublime photos and a layout that is just as good, it's the perfect gift for the enthusiast… of all cars!
All info and subscriptions are here.
The Fantasy World of Norev
Because dad has the right to always be a little boy, or more simply because he is a collector of this emblematic brand. So in both cases it's the book you need, with all the history of the famous Lyonnaise brand since 1953, and especially a good part of its models!
Beautiful book published by Grancher, 336 pages and 500 photos.
35€ on Amazonor at your bookstore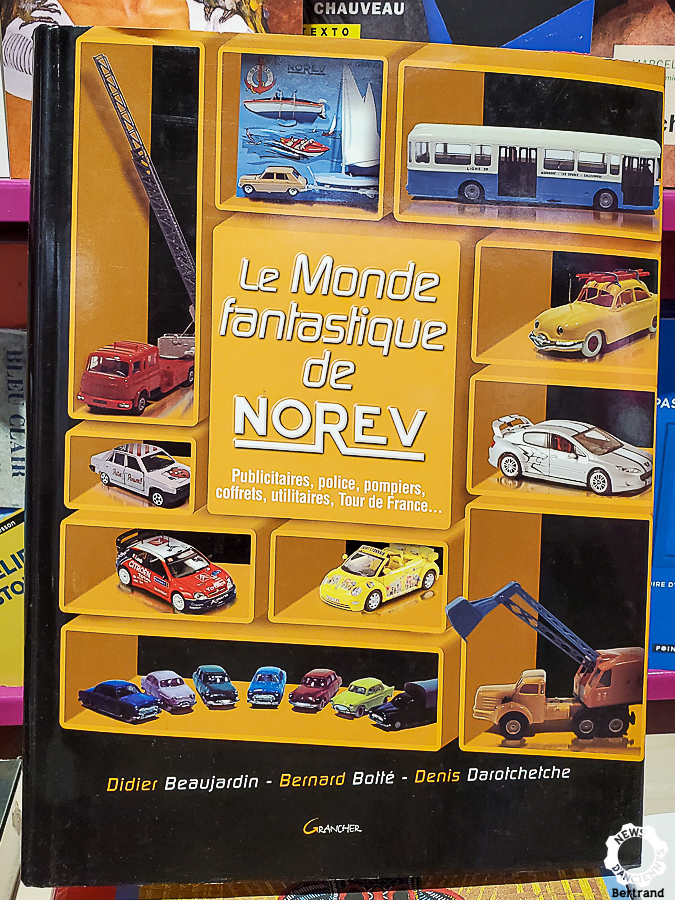 Michel Vaillant, short stories, the seventies
If you thought dad had his complete collection of Michel Vaillant comics, well no! Because we find all the nuggets of the little stories of the friend Jean Graton which date from the 70s. We are talking about those initially released in Tintin's journal. And its seventies conceal, of course, sublime cars!
64-page comic strip, Graton editions.
€14.95 on Amazon… or at your usual bookstore
Margot's Auto Investigations, the elegant volume 1
The 1934 Motor Show saw the presentation of the Citroën Traction 22. This car was not yet a legend, but the problems were piling up. And Margot was presenting her in a Concours d'Elegance…but nothing of this ever happened simply with Margot….
48-page comic strip, Calandre edition.
14€ on Amazon and in store.
Carbeau Volume 1, Ferrari 250 Berlinetta
On the death of her father, Baroness Berlinetta Carbeau inherited the family estate and a collection of vintage cars. One of these cars has just been stolen… A 1958 Ferrari 250 GT Berlinetta, worth several million dollars! The baroness, helped by a man with a troubled past, will investigate.
48-page comic, Edition package.
14€ onlineor at your bookstore.
The Michelin Brothers "an industrial adventure"
For once, we're not talking about cars. But one of the most essential things in a car. Of course, I want to talk about the tires. So what better way to immerse yourself in the lives of its most illustrious inventors, I mean of course the Michelin Brothers. A thrilling comic full of twists and turns. To discover urgently!
72-page comic strip, the Lombard edition.
€14.99 on Amazon or at your bookstore.
a bit of art
For once, it's neither masculine nor feminine, but it must please both!
Old News Screenprints by Arbre à Cames
18 months ago, News d'Anciennes trusted Arbre à Cames to create magnificent screen prints from photos taken in our reports. Original creations, a real art print with truly sublime colors, a plus for your living room / garage / workshop / office / bedroom!
From 55€ to 180€ depending on the options, on our online store.
Posters, photos, there is a choice!
We end with tighter prices. We offer you a selection of posters (of course mythical) of the 24 hours of Le Mans. We also add photos taken during the 24 hours of Le Mans 1970 and during the filming of the film Le Mans.
Source link
#selection #spoil #enthusiasts #Fathers #Day #Mothers #Day