The star of today's episode is a crazy modified Jeep Gladiator from another world bearing the name "Ironside", inspired by the Vikings series, specifically from the real historical hero Bjorn Ironside, who is considered the most powerful Viking fighter in history.
Watch today's episode video:
The exterior modifications that Gladiator got are very large and include a front end that starts with a steel beam beam, a winch, and parts for trimming and helping other cars off-road, making it somewhat of a rescue car in difficult situations.
A new hood has been provided with bulges and air vents, and spotlights have been provided at the bottom of the windshield, and more headlights have been added on the roof, and from the back, iron parts and places for trim have been provided.
The color of this Jeep pickup truck was originally blue, then it got a black color, the price of a gray color, and then Airbrush graphics were provided on the body and then painted and then a clear coat was added to protect the body, and all the graphics on the body of a modified Jeep Gladiator Representing the Viking Age.
This vehicle comes with a body kit that includes iron wheel arches made in the UAE, 22-inch tires surrounded by 37-inch wheels, King Seduction shock absorbers, and a 3.5-inch lift kit, and a pressure to remove or raise tire pressure.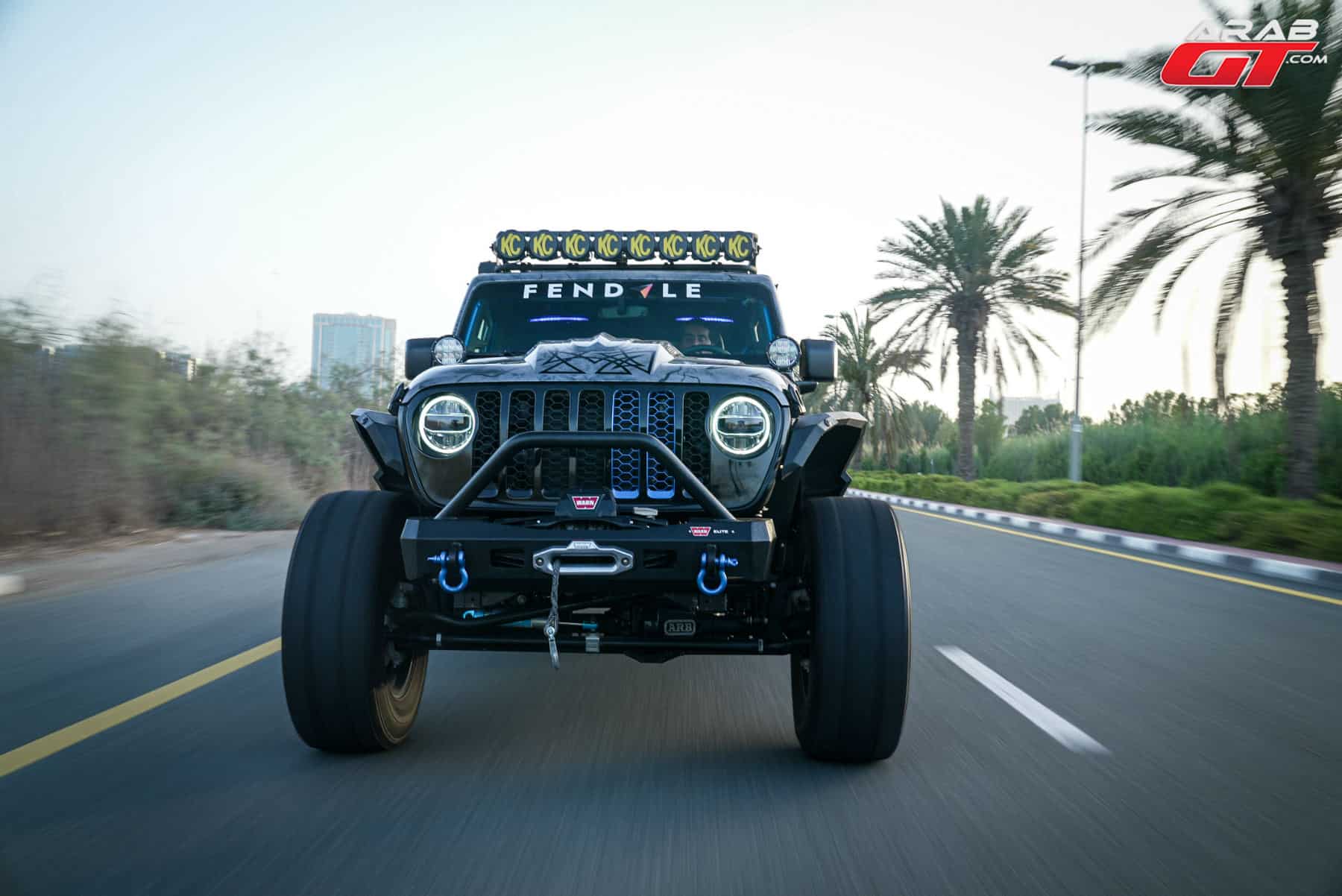 And the side piece on the truck's chassis contains orange dots that can be used manually after dismantling it in case the car's wheel gets stuck in the sand, and the roof contains a tent, and Suhaib described it as "the end of the world modification", but we previously used this title on a modified Jeep Wrangler that was the star of one Previous Special Car episodes.
Gladiator has also got solar panels that collect and charge them in batteries, as it contains two batteries in the front and in the back there is also a battery.
An insanely modified Jeep Gladiator that's got a TV, PlayStation 4, table, fridge and mini oven making it a first class camper van.
During this episode, Sohaib Shashaa noted that ACDelco (ACDelco) provides many parts for American, Japanese, Korean and German cars, and provides oils and batteries for all types of cars. To know the parts they have available for your car, click here.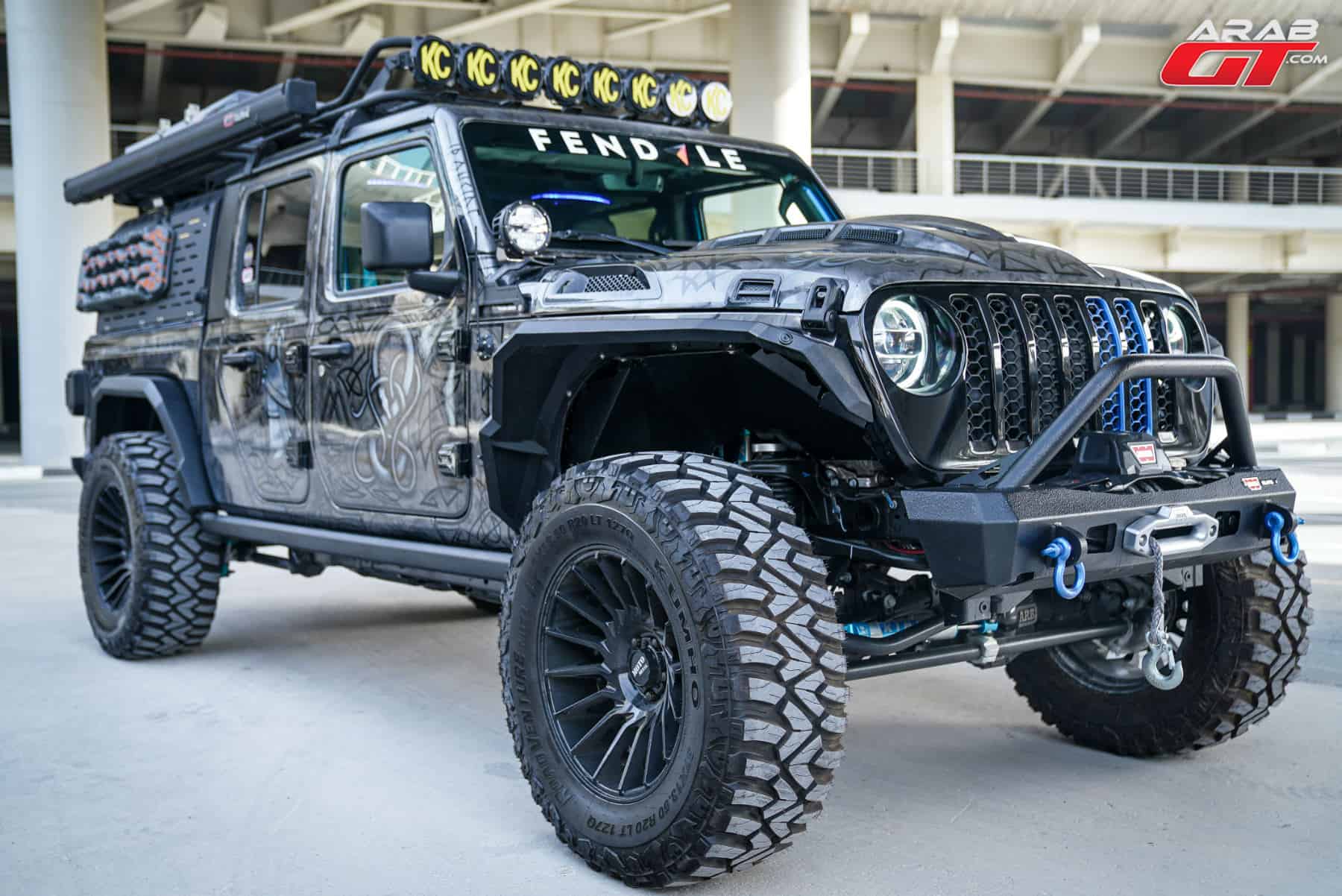 This monster was not satisfied with the formal modification, there are mechanical supplies that included a modified air filter that enters the Pro Charge A passenger on the machine to provide a large amount of air, and parts of the car's Exhaust were detailed, the car computer and the gear computer were programmed, and the car's sprays were modified and became larger, so that the power of the Pentastar 6-cylinder engine in this car reached 436 hp, and it has an 8-speed automatic gladiator .
From the inside, there are many touches in blue such as embroideries, seat belts and D-Lite, as well as Mercedes-Benz air vents.
We would like to thank the owner of this special vehicle, Tony Keyrouz, for introducing him to us so that we can introduce him to you.
After getting acquainted with a modified Jeep Gladiator truck that can be lived in, we would like to remind you of the last 3 episodes that we showed from Special Car:
Source link
#Modified #Jeep #Gladiator #Viking #Era