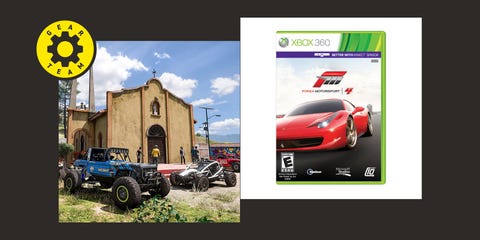 Amazon
This past weekend was an exciting one for car fans, as a new Forza Motorsport was announced at the Xbox and Bethesda Games Showcase on Sunday. Finally, after a dreadfully long five-year hiatus, Forza Motorsport comes back in the spring of 2023. The use of ray-tracing in the trailer and gameplay video showed insane visual improvements. An overhauled physics engine has our attention, and we're crossing our fingers that it delivers—c'mon, we deserve it. Pricing hasn't been announced yet, but it'll be included in the Xbox GamePass subscription.
The debut was a huge success, with enthusiastic feedback on social media hyping up the game. It looks like a gorgeous dive back into the Forza series. The announcement had us thinking: Which prior Forza game is the best? Let's break it down.
This list ranks every published Forza game on Xbox—Motorsport and Horizon—based purely on entertainment. Each Forza game is a solid, semi-realistic entry into the world of motoring, whether it be chasing apexes around Road America or plowing through some poor NPC's crop fields. Some entries just do it better. The older games prove that you'll want to expand your collection backward down the timeline too.
So without further ado, here's our list of the best Forza games for Xbox. We've played every single one to bring you a subjective but experienced ranking, and still hold to the belief that the Xbox 360 controller is the best controller for racing games, ever.
Hunt Apexes with These Expert-Recommended Sim Racing Rigs
---
Advertisement – Continue Reading Below
FM5 is a decent game, but it'll never shake the embarrassment of its release. Following the beloved FM4the fifth Motorsport entry was set to dive into Xbox's next generation with expectations to top the previous game. Frankly, it didn't. A tiny car list and lack of track variety doomed its legacy, and it seemed to be a step—well, a leap—backward.
However, the game is graphically great—not the strides we were hoping for with the next gen, but an improvement. The few cars do sound good, drive well, and Forzavista is a neat feature. But the lack of content variety and erratic-at-best AI put Forza Motorsport 5 last on our list.

The debut entry in the now mega-franchise set the benchmark for Xbox sim racing—in the way that both casuals and hardcore track hawks could enjoy. Microsoft took on the ballsy challenge of matching Gran Turismowhich was top dog at the time. It was a task doomed to fail, but nearly 11 entries later, Forza thrives. In that respect, it was a massive success.
The game itself features an impressive car list of roughly 230 options (FM5 shipped with 200 pre-DLC cars), so the variety is there. Overall, the game has aged well, but it's hard to hold it to such a high regard without the nostalgia factor. It feels a touch outdated—albeit less than it should feel given its age—and for that reason, it's a bottom dweller. But without this, who knows what Microsoft's premier racing title would be now?
Forza Horizon 2 was cursed—or blessed—by piggybacking the Xbox One and Xbox 360. The problem with this is that the two versions almost feel like different games. The Xbox One game was decent, but the 360 ​​version was very nearly atrocious. It felt like a minimal effort, cash-grab way to sell a few more copies. But for this list, we'll go off the better version.
Following the surprising success of the original Forza Horizon, FH2 takes us to Southern France and Northern Italy. Thanks to the Xbox One's internals, it was visually a major improvement from the previous game. At the time of its release, it blew many away—but looking back, it just feels like Turn 10 didn't know which direction they wanted the Horizon series to go, it's just not quite right. Once they figured out what the Xbox One could do, they really got to work with later games.
The Xbox One era for Forza Motorsport was tough, but at least they showed much improvement over FM5 with this installment. FM6 seems like a safe bet for Microsoft, more like a "Okay, we messed up, so here's our return to basics." That's really all it is—it's basic, but it works.
The cars are great, and the list is expansive. The career mode is really well done, with some intriguing events and battles from real-life motorsports. However, Rio de Janeiro is quite possibly the worst track to ever grace the Forza franchise. You'll see entire multiplayer lobbies empty if Rio is chosen—it's bumpy, tight, and lacks any flow.
But being able to drive the Ford GT after the massive buzz of its announcement is one of highlights of the game. It makes Rio hurt a little less. A little.
From here on out, this list becomes very close. Forza Motorsport 2 does a lot of things excellently, and some things not so much. It was Forza's first foray into the Xbox 360, and the game took full graphical advantage of the upgrades. It looks superb, even today.
In-game, you're able to choose from the usual car list, but with a staggering amount of tuner cars, like MINE's and Top Secret. Whatever happened to these in later games? We suggest a petition to bring these cars back to future games in full, not just as unicorn cars.
You're also penalized for contact with opponents and going off-track, which is an added challenge to keep your laps clean. We like that. And those "proving ground" circuits were excellent—they prepared you for real-life tracks and are a blast to fly around. But who approved the menu music? What a racket.
Forza Horizon 3 is a fantastic game, and it's a shame that it's so far down the list. But its siblings are just better. This is where Playground Games really got their act together and redeemed themselves after the FH2 debacle. Australia was an excellent choice for a setting, with diverse landscapes and areas to explore.
Barreling through the bush in an Ariel Atom only to be jumped over by a kangaroo is something we have yet to see in any other game. Driving from Outback to city is glorious, and the sunsets are top-notch. They really began to expand the arcade-y side of the Horizon series, which garnered mixed emotions. Some welcomed the ease of access, while Motorsport fans shrunk away. We think that the handling on the cars doesn't feel quite right, and the sounds are slightly lacking. But that opening race with the Lamborghini Centenario is stuff of legend.
Turn 10 pulled out all the stops to give us a final Motorsport huzzah for the Xbox One generation—and it's a really good one. Forza Motorsport 7 gets some criticism for being too casual, but we feel that's more of an audience issue rather than a game one. With the popularity of the Horizon games, of course those fans will try out Motorsport.
The game itself is stellar, with the biggest car list ever in a Forza Motorsport game spanning over 700 options. The car modeling is vivid and realistic, the tracks feel legit, and the career mode keeps you engaged. The multiplayer can be a bit dodgy, but mostly everyone now is respectable in terms of not ramming you into oblivion. The customizable driver suits are a nice touch, and you can even choose to be a male or female character, which we think is way overdue.
Forza Motorsport 3in its structural essence, is perfection. This game laid the groundwork for future Motorsport titles, which many sadly disregarded. The career mode, vehicle characteristics, car list, ambience, and tracks are fantastic; there are just a few absent quirks and frills that come in later games.
The game runs smoothly and the physics show no surprises—everything drives how it should. The Camino Viejo de Montserrat ranks among the most visually stunning vistas in any racing game, and flows pretty well, too. For the time that this game came out, Turn 10 nailed it. If you want to build a truly great motorsports game, follow the guidelines within this disk.
The fact that Forza—a noted motorsports-focused franchise–could pull something like this out of thin air and succeed is mind-boggling. That's like asking the call of duty guys (cough cough, Activision) to make a medieval battle simulator. There's just no way this should've worked. Yet it did.
Based in the red-toned Colorado mountains, Forza Horizon paired free-roaming supercars with a music festival to create a totally new twist on car games. The opening menu and theme song are among the best ever, and the game is an absolute blast; the formula is flawless.
The graphics were insane at the time, but are showing their age—the lighting seems to be a bit off, too gray or not enough saturation. That doesn't stop the cars from looking gorgeous and sounding good—and by good I mean some of the best in the series. Hit up YouTube for some Forza Horizon car sounds if you don't believe us. Someone give the sound designer a Grammy, Olympic Gold Medal, or anything, really.
For some reason, there's a group of Forza Horizon 4 haters—and they vehemently hate this game. I have no idea why. There's only one knock on FH4: The engine and exhaust audio. It is an issue, but it's one largely overshadowed by the pure genius and perfection FH4 brings.
The biggest change this game saw was the season system, which we think is a great way to spice things up. Yes, winter does suck if you prefer road racing, but you have three other seasons to enjoy. The car list is nuts, with a heavy focus on British options. There's not much that beats cruising through an English autumn in a forest green Triumph.
Back to the car audio—it's bad. Many engines sound the same, and the turbo addition sounds generic. That's the largest outcry against this game, and the one thing holding it back from supremacy. But the scenery, cars, and in-game additions are enough to keep us coming back time and time again to explore the British countryside.
Forza Horizon 5 delivered improvements we didn't even know we needed from the previous British iteration. Stunning blooms of color, vast swaths of varying terrain to explore, and a staggering car list combines to offer an accessible, yet addicting open-world racer.
The Mexican setting provides challenges for every vehicle, with a seemingly boost in attention to off-road themes in general. Upgrades in the much-needed sound department, paired with stunning visual enhancements provide a racing game that truly tingles the senses. Natural beauty encourages exploration, while areas like the Stadium offer a perfect place for a game of car-soccer with your buddies.
The one thing that keeps it from our top spot is somewhat subjective: it's missing a splash of personal magic. There's almost too much to conquer, too much to see—and can feel somewhat overwhelming at times. Is that a bad thing in an open-world game? Not necessarily. If that's the only knock on the game, we'll gladly take it.
This is it. The best Forza game of all time. The fact that a copy of this isn't displayed in the Louvre is a crime—everything about it is a work of art. This isn't just the best Forza game, it's the best racing game, period.
Turn 10 built off the bones of Forza Motorsport 3 and added goodies and improvements across the board, without taking a wrecking ball to the foundation. The 500-strong car list was the largest until FM7 came along, but it's what you can do with these cars is what sets it apart.
Introducing Autovista, a way to explore every nook and cranny of the most interesting cars in the game. They handle better than ever, look more detailed than ever, and sound like a symphony of combustion. Add the Top Gear integration with the tracks and various narrations by Jeremy, James, and Richard, and Forza Motorsport 4 features the best aspects we look for in racing games. And they figured out how to make your Xbox 360 present it to you, the racer. This is a must-own for any car guy or girl, we don't even care if you have a 360 or not. Put it on a shelf and bathe in its glory, we command thee.
This content is created and maintained by a third party, and imported onto this page to help users provide their email addresses. You may be able to find more information about this and similar content at piano.io
Advertisement – Continue Reading Below
#Forza #Game #Xbox