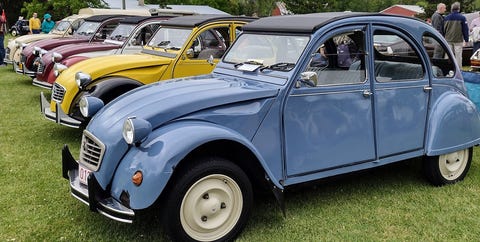 Joe LorioCar and Driver
Citroën bid America bye in 1974, when its exotic SM ran afoul of stodgy US regulators, but the innovative French automaker still has a cadre of fans here in the New World. Each year, usually on Father's Day weekend, they gather to celebrate the dual-chevron brand. From its start in Massachusetts, the Citroën fest moved in 2003 to Saratoga Springs. The northeastern location puts it within striking distance of Canadian enthusiasts—particularly Quebecois, who are well represented. Here's a sampling of this year's attendees.
Advertisement – Continue Reading Below
Citroën Traction Avants motor past the show field. The front-wheel-drive model was produced from 1938 to 1955.
A colorful lineup of 2CVs is all but guaranteed at the Citroën Rendezvous. Introduced just after World War II, the 2CV put rural France on wheels and is probably the most iconic French car—no doubt due in part to its 42-year model run.
The graceful, otherworldly DS was well in evidence at the Rendezvous. This was a particularly striking example.
There were several rarely seen Citroën DS station wagons on hand. We were drawn to these dual folding seats in the wayback. In case you're wondering, "Are we there yet?" in English is, "Are we there already?" No, we don't know how to pronounce that.
It's impossible not to be charmed by the abject weirdness of the Citroën Ami. This 1965 sedan was spectacular.
A trio of Citroën GSA (green) and GS (white, blue) models. Although never officially sold in the United States, the GS and later GSA was for years the brand's biggest seller.
This Citroën GS wagon is said to be the only surviving car of four that were painted in this multi-flag livery for the 1972 Munich Olympics.
Introduced in 1970, the SM was Citroën's elegant grand touring coupe and was powered by a Maserati V-6 engine.
Although US-market SM coupes had uncovered, round headlamps, in other markets the car came with this triple-lamp setup protected by an aerodynamic glass cover. The headlights were swiveling and also adjusted for ride height.
This SM is decked out to match the appearance of its Matchbox version.
The toy car that inspired it is housed (along with two other Matchbox SMs) behind the glass in the nose.
Other French cars are welcome, too. Among the prettiest Peugeots was this 1969 Pininfarina-bodied 504 coupe.
This content is created and maintained by a third party, and imported onto this page to help users provide their email addresses. You may be able to find more information about this and similar content at piano.io
Advertisement – Continue Reading Below
#Citroën #Rendezvous #North #Americas #Biggest #Citroën #Show